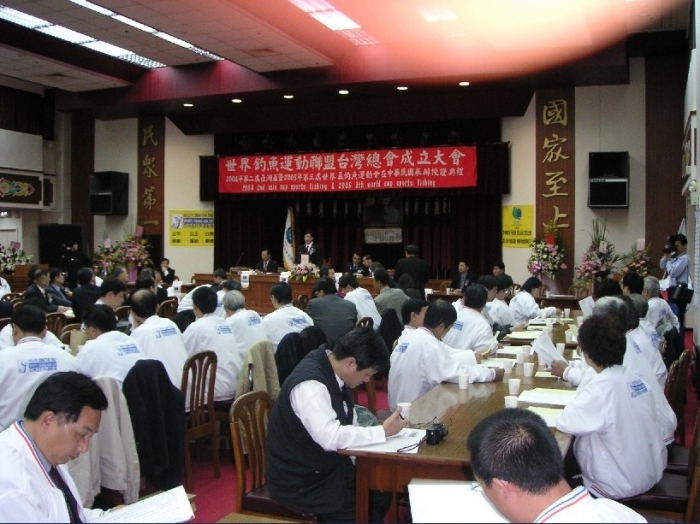 At the Board Meeting held during the 2nd Fishing World Cup which took place in Yeosu of Korea, Taiwan was elected as the host country for The 3rd Fishing World Cup scheduled in 2005. In addition, 2004 is the "Year of Tourism" for Taiwan. To celebrate this year, Taiwan has decided to host the 2nd Asian Fishing Cup, in succession to the 1st Event which took place in Wan-do of Korea in October 2000. This year's event is scheduled from October 20th through 24th.

As an official kick-off for both the 2nd Asian Cup and the 3rd Fishing World Cup, the Inaugural Convention for World Sports Fishing Federation Taiwan Division was held on February 2nd at the Parliamentary Convention Hall. A total of 150 representatives from 5 major fishing organizations of entire Taiwan gathered together. A strong driving force for this grandiose undertakings are Honorable Yu-Chen Cheng, a member of Parliament, Mr. Wen-Tsung Chiu, the president of Fishing Association of the Republic of Taiwan, and the officials and staff of WSFF Taiwan.

Representing the WSFF Headquarters, President Mr. Tae-Guen Yoon, Secretary General Mr. Osamu Sano, Director of the Department of Research Mr. Jin-Ho Choi, together with the President of WSFF Korean Chapter Mr. Chun-Geun Lee and the Director of Youth and Sports Section of Seoul City Municipal Office Mr. Mu-Gyong Baek, the reporter of Monthly fishing magazine "Ocean Fishing" and FS-TV cameraman took part in the occasion.

The 2nd Asian Fishing Cup is scheduled to be competed in 5 fishing categories. In addition to the Surf Casting which was the single category at the 1st Asian Event, Boat Fishing, Long Casting, Flesh Water Fishing, and Trolling are added. The tournament ground for Boat Fishing, Long Casting and Flesh Water Fishing will be at the Northern Taiwan, while Surf Casting will be played at Peng-hu-dao Remote Islands to the west of Taiwan, and Trolling nearby Lu-dao Island to the east of Taiwan.

In order to make "The Year of Tourism" most significant, all major fishing associations in Taiwan are joining hands to create an unprecedented international fishing event. The objective is to invite more than 30 nations from the Asian Region. Each country is given the opportunity to send in a team of up to 30 contestants, officials and staff. The Administrative Office is ready to accommodate a total of 500 participants.

The cash prize for the champion in each category is $10.000 for the individual competition, but for Surf Casting and Boat Fishing which have been the major fishing categories so far, it is possible for a special prize be added.

As this Asian Fishing Cup may become a touchstone by which all who are concerned foresee the outcome of the 3rd Fishing World Cup in 2005, unreserved support and cooperation from the WSFF member states and new countries which wishes to take part in this global event will be greatly appreciated.